Horizontal Form-Fill-Seal Packaging Machine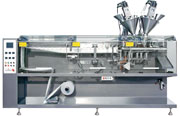 Servo Technology for easy operation.
suitable for industries related to Pharma, Agri,Chemicals, Healthcare, Food, and the like.Horizontal Form-Fill-Seal machine results in a more aesthetic packing format. Utilizing Servo Technology, Advanced Film Forming Technology and Micro-Computer control to provide a stable operation, coupled with an Advanced Film Relay Technology for high productivity.
Can be customized for Multiple bag shapes, various additional sealing structures, and a variety of compound modes of material filling. Package types include Stand-Up Pouch, Gusset, Pouch with Hanging Hole and Zipper, Pouch Spout, Single up to Quadruple Sachet.
We can customize Filling options from Liquids to Pastes, Powders to Granules, Multi-Products, and the like.